Ensuring Quality Standards
If the precision parts you purchase or cut are just a little off, it can jeopardize the integrity of your entire manufacturing process. There is no room for mistakes when it comes to the performance of your cutting tools or services.
This importance isn't lost on the team at KNB Tools of America Inc. That is why we have demanding quality standards and a complete inspection process for every single one of our products and services. With automatic measurement machines, including state-of-the-art gauges and meters, we are able to thoroughly inspect every order before it ships to ensure there are no errors.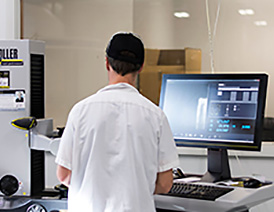 We use high-tech inspection equipment because even a fraction of a fraction of a size off can render your tools useless; we know that everything needs to be precisely measured. This is something that even the most skilled human may not be able to do successfully, especially in bulk. Our quality control equipment helps to eliminate human error and make sure that everything you order from us arrives at your exact specifications. We guarantee that you are going to be happy with the work we provide each and every time. Contact us today to learn more about our quality standards and inspection process.